Customer Reviews: What Do People Think of The LEFEET S1 PRO?
Dec 15, 2022 by LEFEET
Intro
LEFEET is well-known for its line of compact, light and powerful sea scooters.
But is it all it's cracked up to be? Should you buy a LEFEET underwater scooter?
We've scoured the internet for LEFEET reviews and testimonials from buyers and dive gear experts for first-hand product feedback.
And whether you're shopping for yourself or for a special person, LEFEET makes compact and versatile diver propulsion vehicles (DPV) to make underwater explorations easier and more fun.
So whoever you're buying for, the LEFEET sea scooter has a modular design that lets you customise it and use it any way you want.
Discover some of the best LEFEET S1 PRO reviews from online magazines, news websites, blogs and creators' channels below…
DIVEIN: LEFEET brings high-tech innovation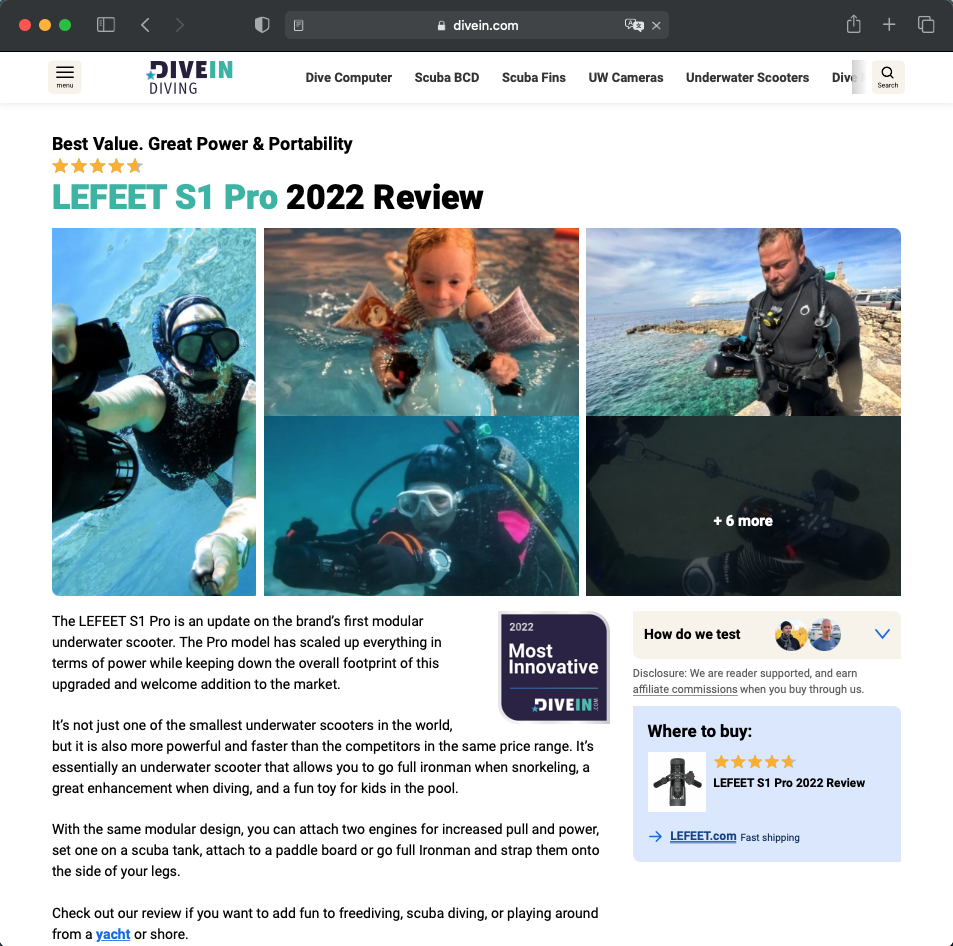 DIVEIN is the go-to website for reviews on diving, snorkelling, paddleboarding and other watersports and outdoor gear.
They gave an in-depth LEFEET S1 PRO review, highlighting its features and characteristics. Such as speed, manoeuvrability and size.
The verdict? LEFEET is branded the 2022 "Most innovative" sea scooter with great power, portability and excellent value for money.
"It's usually worth paying for a quality DPV. Saltwater, in particular is hard on your scooter. That is why the LEFEET S1 Pro boasts a durable frame using aviation-grade aluminum alloy which is a fancy way of saying your scooter is corrosion-free." – DIVEIN 2022 review of the LEFEET S1 PRO.
The Scuba Diving News: LEFEET brings speed and fun
From travel advice to environmental initiatives and even underwater sea scooter reviews, The Scuba Diving News is a reliable source of information for the diving community worldwide.
And their thoughts on the LEFEET S1 PRO are clear: it's a winner!
With its small size and airline-approved battery, the LEFEET is a travel-friendly sea scooter that can turn even the most boring swims into exciting adventures. Plus, it has a fast-charging time, so there's no waiting around for several hours for full recharge.
Charles Davis, the scuba diver who wrote the review for The Scuba Diving News, highlights one incident:
"One of my snorkeling trips had a very rocky entry that was very difficult with fins. I overcame that problem by snorkeling without fins and allowing the scooter to assist with the propulsion. The low-speed stetting moved me along at a very comfortable pace, better that if I was using fins."
Matthias Lebo: LEFEET brings you power and convenience
Cinematographer and filmmaker Matthias Lebo describes the LEFEET S1 PRO as powerful and lightweight.
On a more technical level, he likes the scooter's attachment for an action camera (like a GoPro), which helps take sharper photos and videos underwater.
So you can take amazing shoots as you glide over coral reefs – without jittering as you normally would when you hold a camera in your hand.
"By having your GoPro on the scooter and having that constant pull over the reef, you're going to get some really cinematic-looking images. Now the thing is that a GoPro already has some stunning image stabilization features built into it, but by putting it on a scooter, the imagery is going to be even more stable. You're going to get a constant speed, and the images just look incredible." – Matthias Lebo.
KSL: LEFEET brings the family together
Based in Utah, KSL is a news channel devoted to sports, weather and lifestyle.
But it's also a platform for outdoor and family life news. As such, it also shares watersports activities for the whole family.
Unsurprisingly, they reviewed the LEFEET S1 PRO as an underwater scooter for the family, as it's versatile and easy to use. Be it while scuba diving, snorkelling, or simply while splashing around in a lake or swimming pool.
"The most notable feature of the LEFEET S1 PRO is its versatility. This modular underwater scooter can be used singularly or as a double unit, and can even be mounted to your legs, scuba tank, paddleboard and more. One remote can control up to 10 units, so the possibilities are almost limitless." – KSL News.
Christian Wedoy: LEFEET brings you magic
Christian Wedoy is an illusionist and escape artist with millions of followers on social media. He performs around the world and has even appeared on TV shows, most notably on Britain's Got Talent (earning a "Yes" from Simon Cowell). He is also Greece's Got Talent 2022 finalist.
Christian Wedoy is kind of a big deal. And with his trademark underwater stunts, he and his partner were all too eager to test the LEFEET S1 PRO and go full Iron Man with it.
"The most comfortable scooter I've ever tested!" – Christian Wedoy.
Joan's Footprints: LEFEET brings you freedom
From Joan's Footprints – a travel blog dedicated to budget-friendly travel around the Philippines – the LEFEET DPV is lauded for its ultra-compact size and flexibility.
As one of the smallest underwater scooters, in fact, the LEFEET S1 PRO fits in a backpack, making it the perfect choice for travellers, bloggers and vloggers who want to travel light without having to leave their dive gear at home.
"I can't imagine bringing a bulky scooter with me every single time I travel and freedive. So if you are looking for a scooter you can use for underwater sightseeing, get this now!" – Joan's Footprints on the LEFEET S1 PRO.
LEFEET is for everyone
The LEFEET S1 PRO is the perfect sea scooter for every water enthusiast. Visit our shop to see how you can use it – no matter what kind of diving you do.