DPV Revolution | A Brief History Of Underwater Sea Scooters
Nov 16, 2022 by LEFEET
Quick 'n easy history of the DPV revolution over the years. What you might not know about underwater scooters and their dramatic transformation into fun electric sea scooters that let you move faster and effortlessly through the water.
Life with a DPV (diver propulsion vehicle) is unlike anything else.
It's the starting point for all good watersports adventures. From silently gliding on a stand-up paddle board to whizzing past spectacular coral reefs while snorkelling or scuba diving, a DPV unlocks a world of exciting possibilities. And while we all value the importance of size, speed, weight and cost, it's easy to forget that it's only in recent years that DPVs have become more accessible to the wider public.
So how did DPVs change over time?
The DPV revolution did not happen overnight. In fact, it took decades of technological innovation to develop smaller, cheaper and more powerful DPVs.
In this blog, we're going to cover the main stages of the development of the water scooter we know and love today!
The birth of the DPV
Like most things scuba diving related (i.e., during Jacques Cousteau's days), sea scooters first appeared in the 1940s.
But during these times, DPVs were big, heavy-duty units used to carry out covert military operations.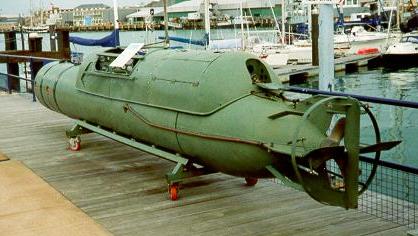 An Italian maiale type manned torpedo, at the Royal Navy Submarine Museum.
As if foreseeing the success of water scooters for freediving and scuba diving, the DPV revolution began with design changes to meet recreational needs. And so, to help with user-friendliness and underwater propulsion, sea scooters gradually evolved into lighter, faster and more portable devices.
Farallon DPV, the first "real" underwater scooter
The first true sea scooter as we know it was the Farallon and it dates back to the 70s.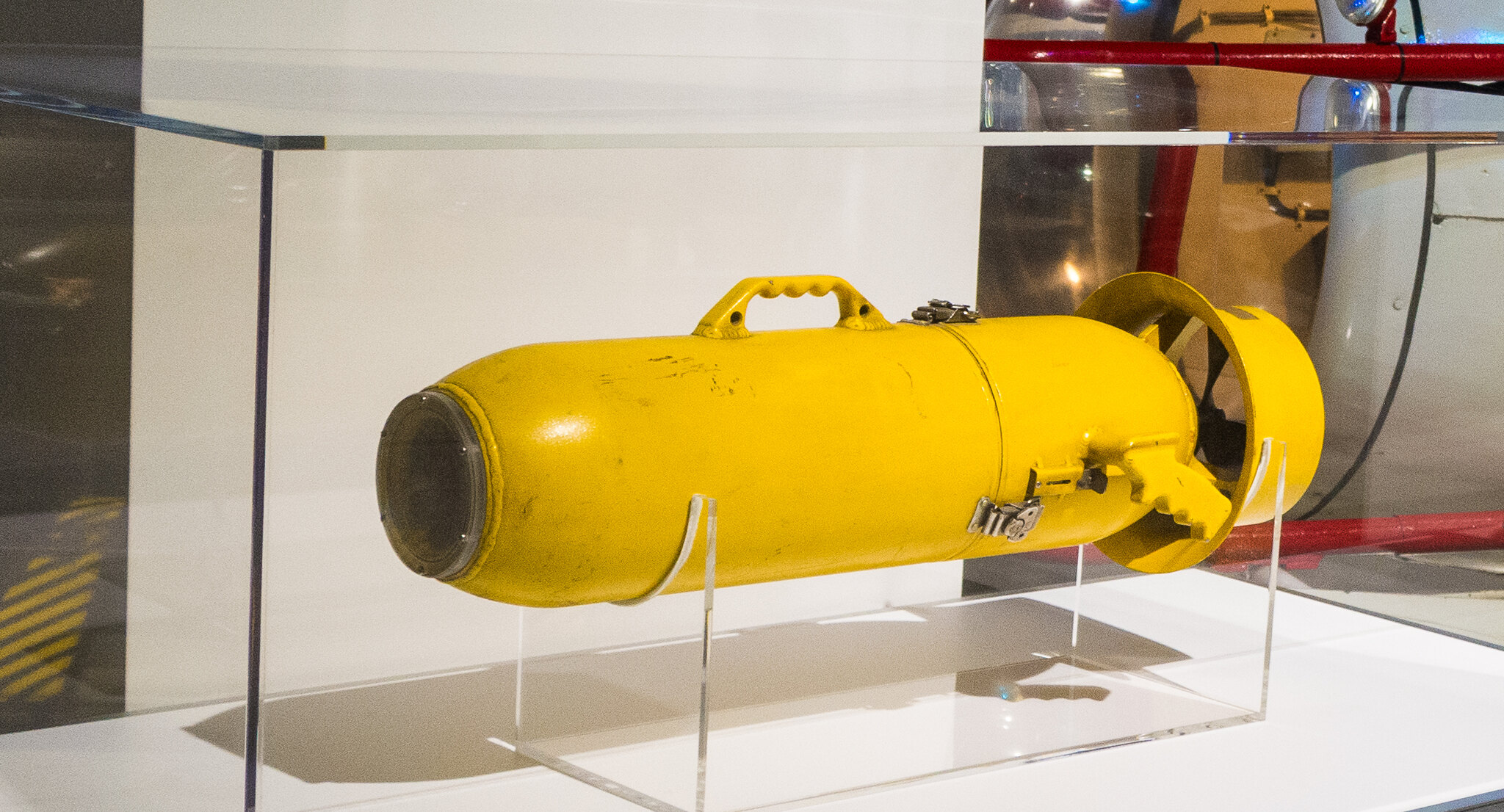 Farallon DPV. The first real scuba sea scooter. Photo by Robert Rouse.
The Farallon DPV was the first quality scuba scooter. It was rugged, streamlined, fast and worked up to 300 feet deep (90m) with an average runtime of 1 hour.
Later models even had a front light and an electric speed control dial. It was proper cutting-edge technology that set the revolutionary foundations for future sea scooters.
The DPV evolution from the 80s onwards
Moving onto more technically advanced scuba scooters, DPVs were upgraded to deliver important user advantages:
Longer durability (and lower maintenance)

Better speed control (and acceleration)

More efficient (less battery consumption)

Quieter
These important DPV changes happened in the 80s when scuba diving really gained public attention and boomed into a popular worldwide sport.
Local dive centres also started promoting more DPV courses, allowing intrepid divers (like cave divers and technical divers) to see more and do more.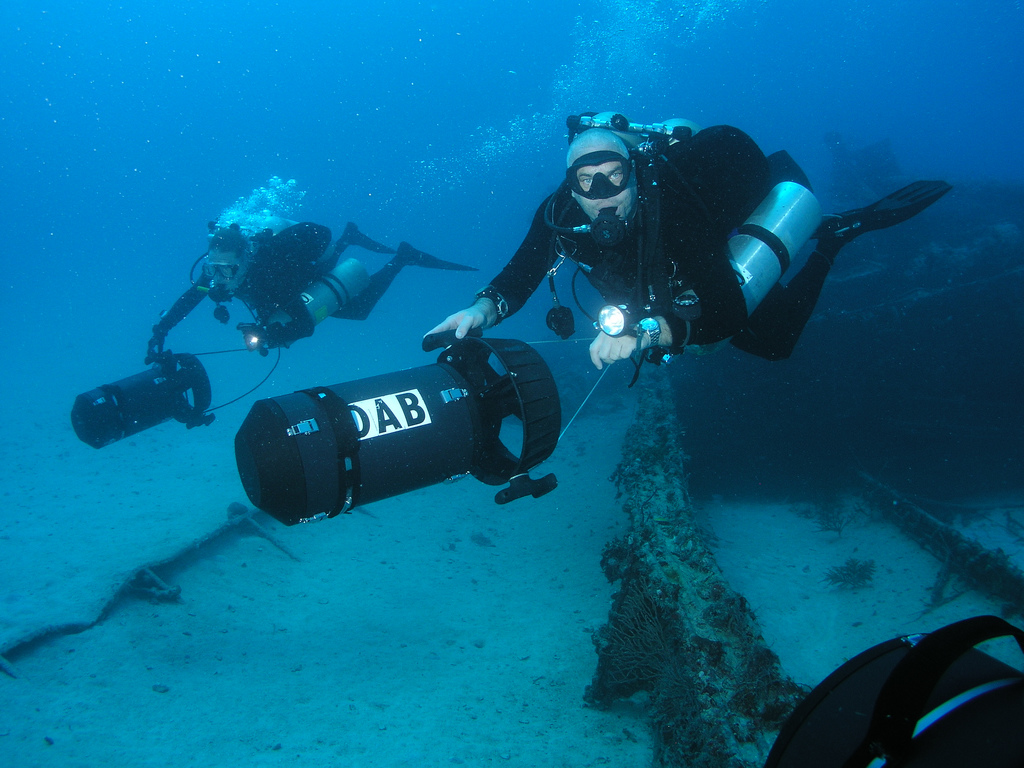 Technical divers using heavy-duty diver propulsion vehicles. Photo by Matthew Hoelscher.
Although still bulky and expensive, more underwater scooters entered the market, where every new DPV was better than the previous one—with new features and new technology to make the water scooter run faster and smoother, adding to the excitement of exploring the underwater world.
A shift towards compact underwater sea scooters
Although heavy DPVs still exist, like the Tusa SAV-7 (it weighs 45lbs - 20.4kg), divers and snorkellers prefer a travel-friendly sea scooter. Small in size, airline-compliant and fast-charging.
Because if you're anything like the typical watersports lover, you'll want to travel prepared—without being weighed down or stopped on your adventures.
For a long time, SeaDoo was the leading manufacturer of lightweight and compact DPVs. The Canadian brand eventually moved into jet-ski productions, and in its place, emerged no other than Yamaha.
Yamaha seascooters are entry-level DPVs that boast the speed, portability and durability that divers crave.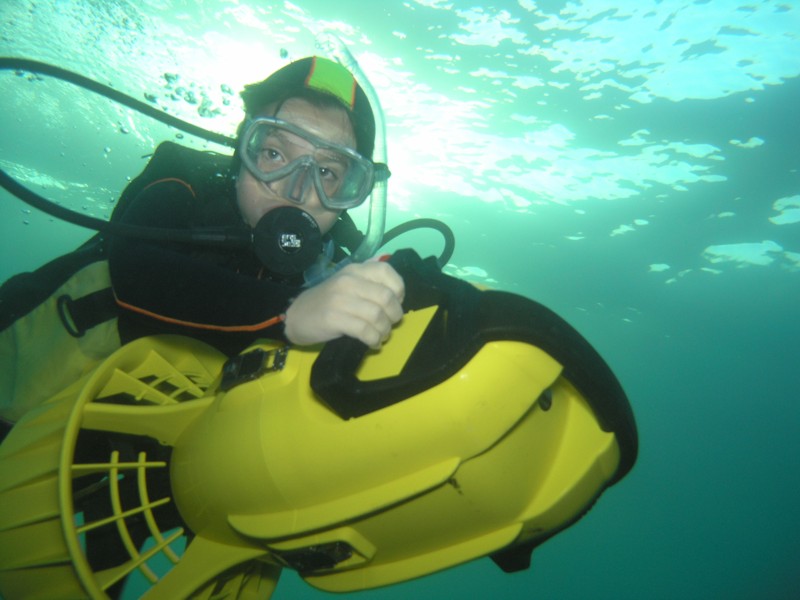 Young diver with a lightweight DPV.
The multi-purpose DPV of today
It's time not only for scuba diving, but also for snorkeling, freediving and, more recently, stand-up paddling.
And it's a time for simplicity, flexibility and affordability.
So when LEFEET entered the diver propulsion vehicle market a few years ago, it was an important DPV revolution milestone—a game changer for travellers and adventurous watersports souls worldwide.
Compact, affordable and easy to use, the modular design of LEFEET scooters give consumers a lot of scope for exploring the places they love with newfound enthusiasm.
Compact and multi-functional DPV.
Because it all comes down to enjoying the present and appreciating where you are and what you're doing, especially if you swim in strong currents or want to cover a large area while using less energy.
DPV revolution: then and now
Underwater sea scooter has been getting watersports enthusiasts' adrenaline pumping for 70+ years.
And while people often debate over the pros and cons of each DPV model, there are many options available today to match your needs.
But, generally speaking, it's widely agreed that a good DPV is powerful, lightweight, and—nowadays—airline-compliant.
Whichever your preferences and requirements are, the sea scooter is here to stay. So why not reap the benefits of it?
Choose a DPV that you can faithfully use on your adventures.