News and excitement at the Paris dive show 2023 (Salon de la Plongée) with LEFEET
Jan 17, 2023 by LEFEET
LEFEET showcases its new sea scooters at the Paris dive show. And people even get the exclusive chance to try and test them!
Intro
As we reflect on this past year, we look forward to 2023 with excitement and the promise of new technology and design upgrades for future sea scooter releases.
And to prove our commitment to innovation through collaborations, we've kickstarted the year by going to the international French dive show in Paris – Le Salon International de la Plongée Sous-Marine.
What is "Salon de la Plongée"? It's an annual scuba diving trade show in France that brings together the world's leading dive centres, dive gear manufacturers, retailers, travel agencies, associations and dive training operators.
This year, between 6-9 January, the Paris international dive show welcomed back for its 24th edition scuba diving experts, scientists and amateur divers to share and discuss important industry news and environmental initiatives through conferences and seminars.
But the dive fair is also a place for scuba diving enthusiasts to jump in the water and test scuba gear. And if they like what they see, they can even pre-order the latest diving equipment and gadgets.
And oh là là! LEFEET got a lot of attention for its groundbreaking diving technology and sea scooters.
Below are some of the best wholesome LEFEET moments from the Paris dive exhibition.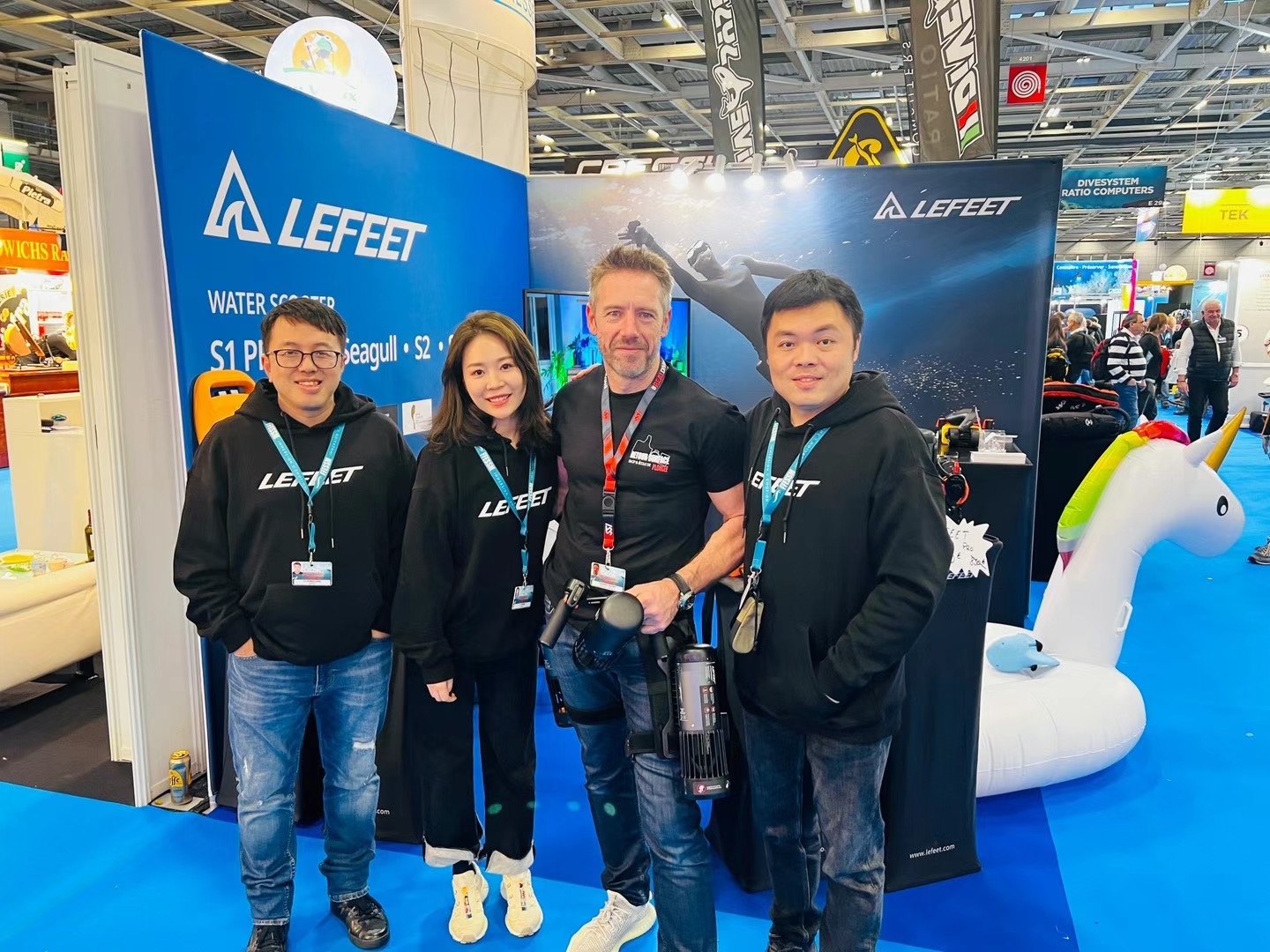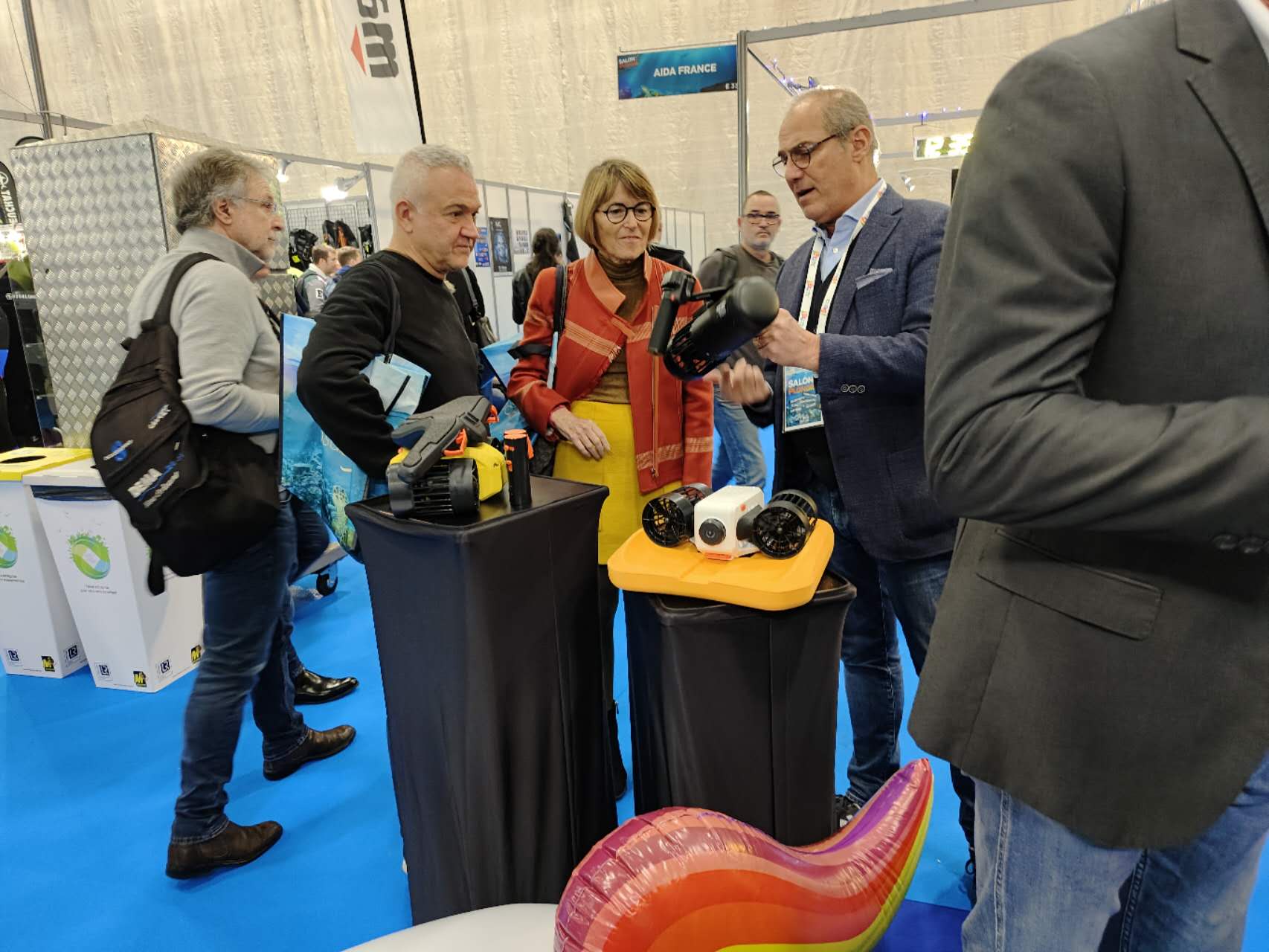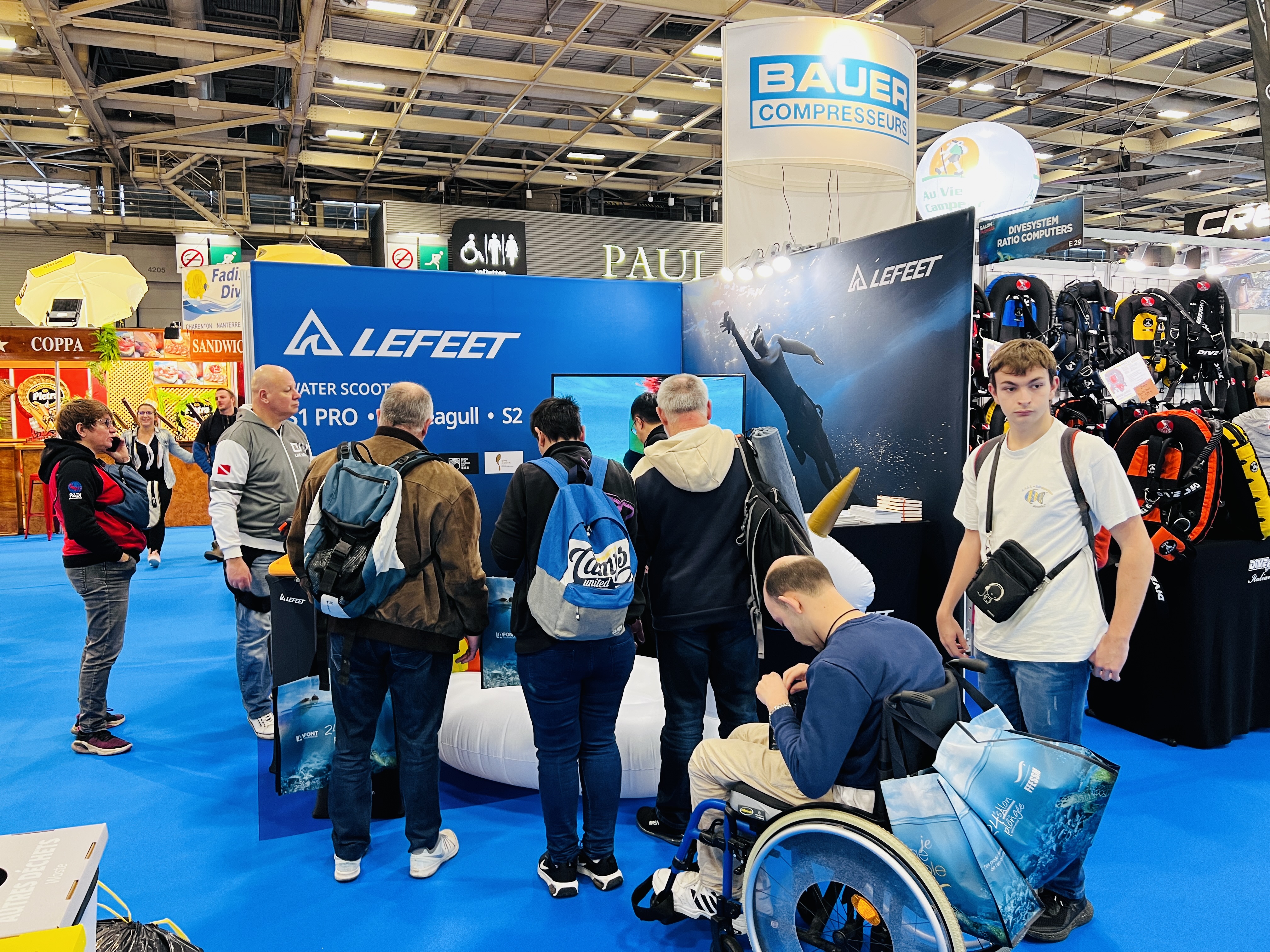 LEFEET exhibition booth at the Paris dive show.
Love, respect and gratitude: LEFEET founder signs autograph for customer
The LEFEET S1 Pro is famous for its versatility, speed and ease of use. And for some people, these are features that make a world of difference to how they spend their time in the water.
For example, a scuba diver who visited the LEFEET exhibition booth excitedly explained that because of his back surgery, he was limited in his diving activities. But thanks to the lightness of the LEFEET S1 Pro, he has now rediscovered the freedom of the underwater world.
The visitor was so happy to finally meet Donny Zhang, the founder of LEFEET, that he even asked for his autograph!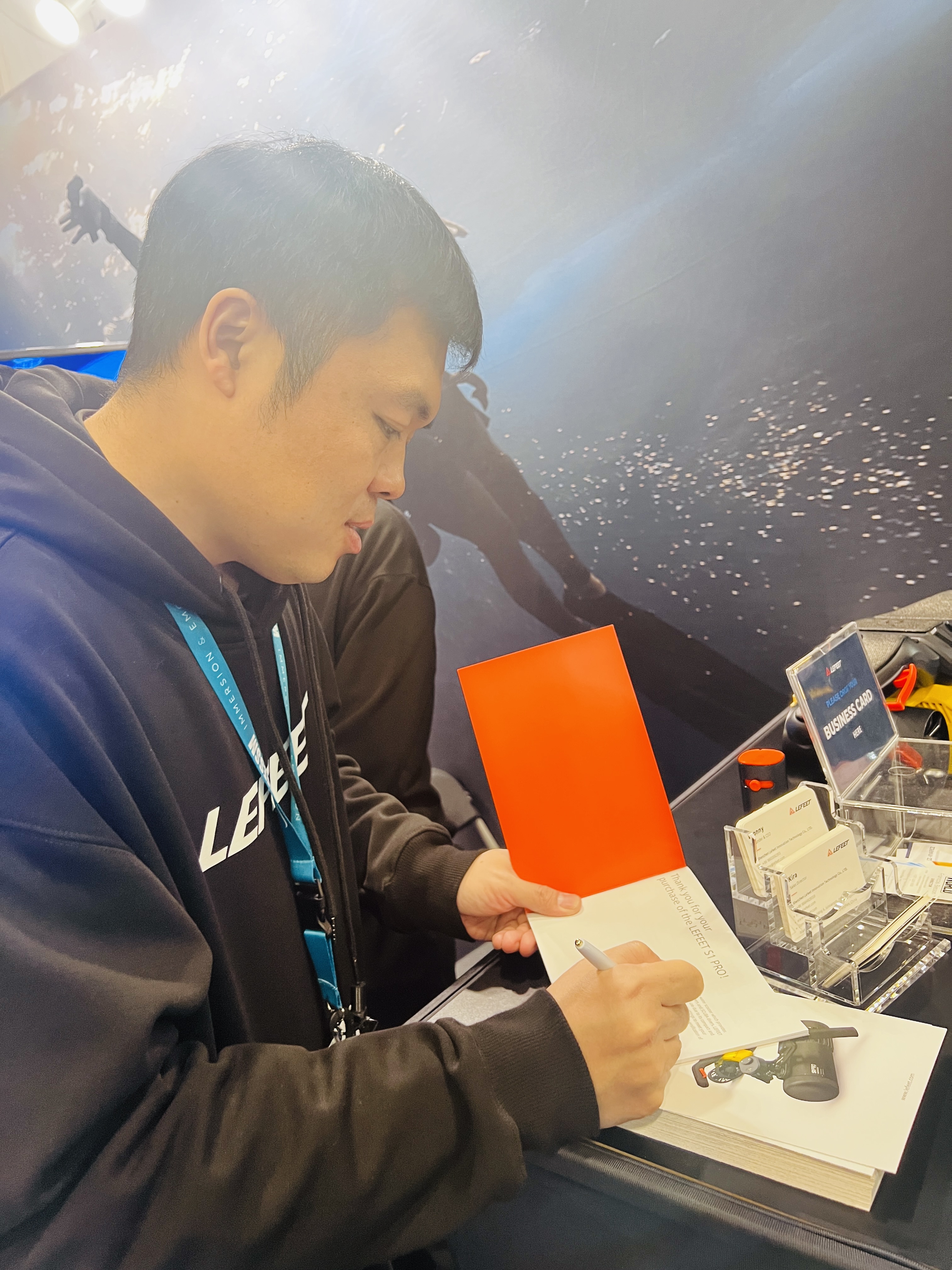 LEFEET founder signs autograph for customer. A scuba diver shares his experience using the LEFEET sea scooter and how it allows him to scuba dive after undergoing back surgery.
Caring, communicative and attentive: LEFEET customer service put to the test
Just before the Paris dive show, the organizer of the Salon de la Plongée placed 2 orders of S1 pro underwater scooters and accessories from our website.
They were impressed with the shopping experience that exceeded expectations, especially our professional, proactive and enthusiastic customer service.
So, during the dive exhibition, the organizer stopped by our booth to personally compliment us on our good customer service.
A freediver's take on the future of sea scooters and why they'll be used for rescue operations
A freediving athlete told us that he believes that a lightweight yet powerful sea scooter like the LEFEET S1 Pro could be used for rescue operations and replace vehicles with large thrusters.
Why? Because accidents happen. And in an emergency situation, especially at sea, you need to be fast and accurate.
Could this be how recreational sea scooters evolve?
Paris dive Show: big laughs and big fun
The Paris diving convention is an exciting opportunity for anyone to test the latest scuba equipment in the water.
Over the 4-day dive show, dozens of children and adults got their hands on LEFEET S1 Pro and the soon-to-be-released LEFEET C1.
Some used the sea scooter to do underwater lapses, others used it as a swimming aid, whereas others preferred to attach it to a giant inflatable unicorn float and prance around the swimming pool using the remote control…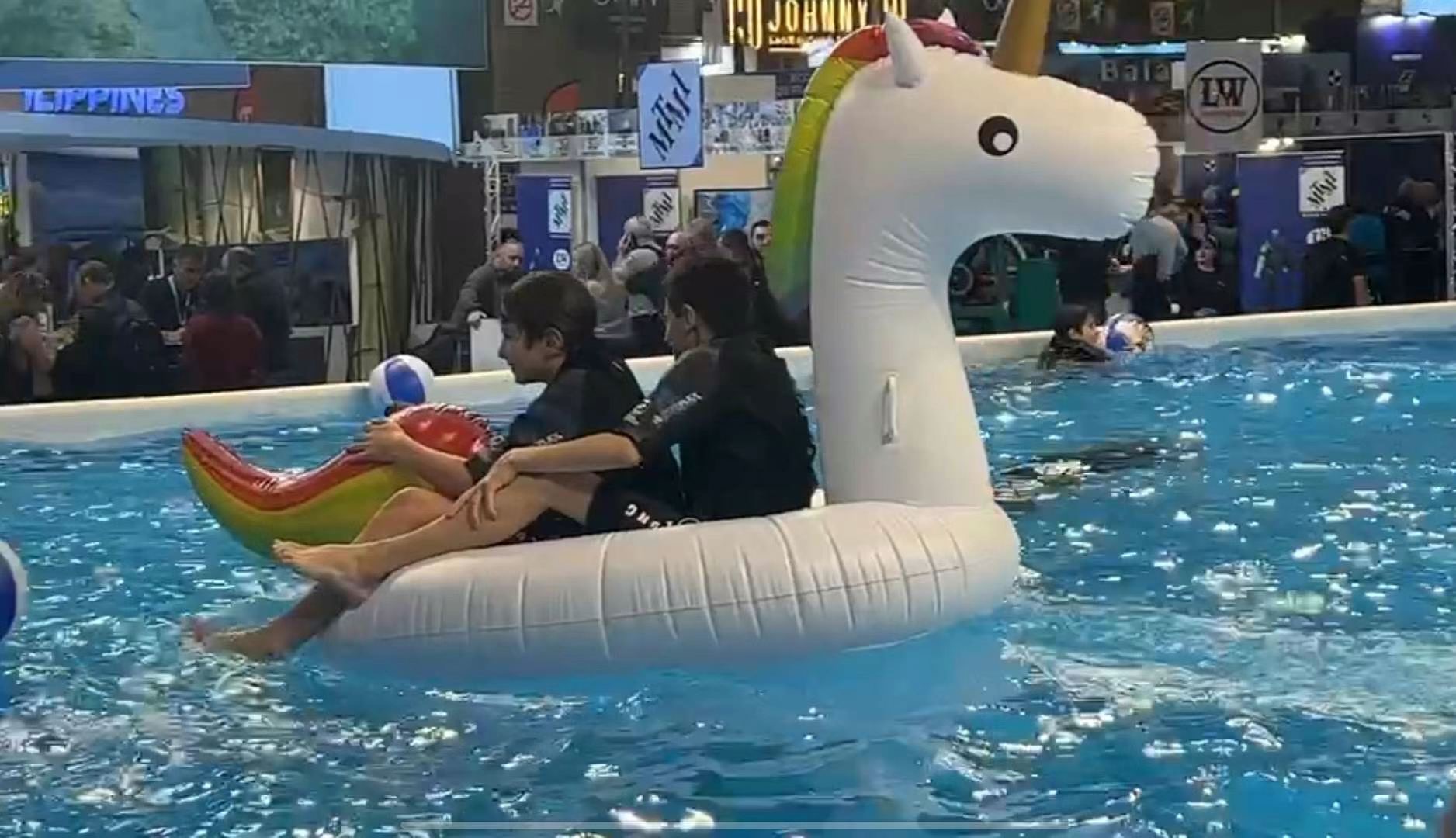 Something to look forward to: the upcoming C1 underwater scooter strapped to the inflatable unicorn and controlled remotely.
Exciting and new: what's next for LEFEET?
With great all-round performance, the LEFEET sea scooter represents freedom, creativity and style.
On our shelves, you'll find the ultra-compact and powerful S1 Pro. And soon, the highly-anticipated C1 and new models will also be available for purchase.
You can expect the C1 and S1 sea scooters to have all the wonderful LEFEET features for increased comfort and manoeuvrability.
But more about these upcoming LEFEET sea scooters in due time.
Meanwhile, visit our online store to shop for the latest sea scooters – as tried, tested and loved by visitors at the Paris dive show.