Shipping & Delivery
SHIPPING
LEFEET offers products purchased worldwide. That is our Guarantee, and now we're providing shipping method: DHL,FedEx,UPS.

CONTACT DETAILS


Contact Email: service@lefeet.com

Tel: (+0086) 0755-26808091



SHIPPING CHARGES
Exclusions: Certain products we offer do carry associated shipping charges either per item or per order amount. The total item shipping charges, if any, will be detailed in the checkout page.


DELIVERY
Due to the serious COVID-19 epidemic, the delivery time is expected to be 15-20 days. Thanks for your understanding and patience! If it's been more than the allotted shipping time for your order, please contact our customer service email: service@lefeet.com and we will reply as soon as possible during working hours. We use the following delivery services for your order or according to your requirements: DHL, FedEx, UPS.

In the unlikely event that you do not receive your order, please contact us so we can order a replacement or give you a gift/discount code to make things right! Please wait 4 weeks before contacting us if you do not receive your order.


Tips:
The harsh weather condition and festival holiday: sometimes the package shipping time will be influenced by the harsh weather condition and festival holiday.

Affected by Covid-19, there will be some delay on the delivery.



HOW ABOUT YOUR DELIVERY COST?
The delivery cost will automately calculated in your shopping cart after you enter your country. It depends on automatic calculation of weight and package sizes by reference to the destination. The calculation results are different under the same weight in different area.

The prices also depend on the different rates of the shipping companies and are subject to change without notice. We're constantly working on lowering the shipping prices for you though!

If the item damaged, stolen, we will contact the corresponding shipping company for a refund or redelivery.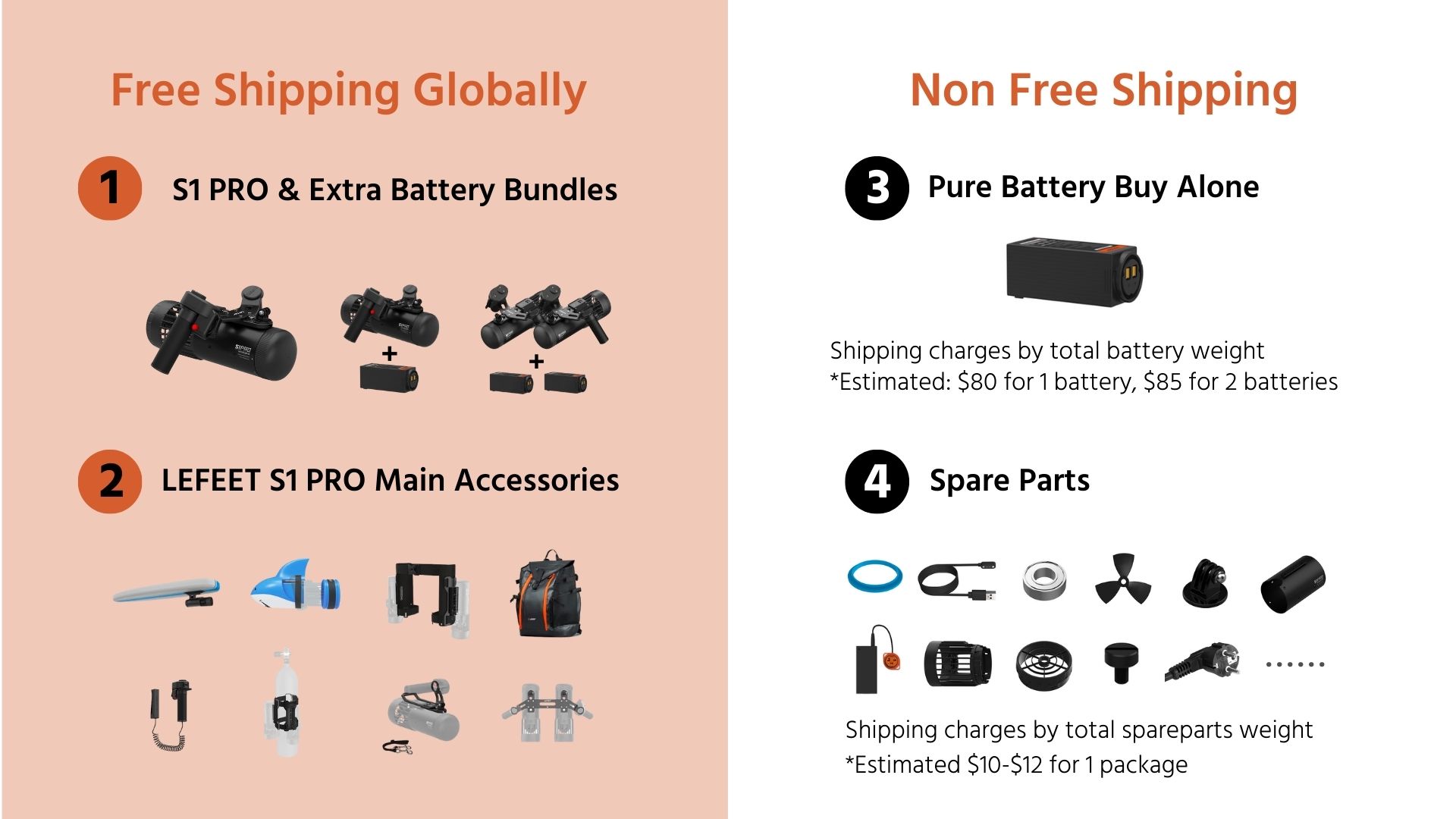 DAMAGES AND ISSUES
Upon receiving your order, inspect all packages thoroughly for missing, damaged, or incorrect parts. Our warehouses put forth every effort to prevent shipping damage however, it does occur occasionally. If you receive a damaged part, do NOT accept the package, have the shipper immediately return to sender. If the shipper has left a damaged package in your absence, immediately contact the shipper and have the package returned to sender. We must be contacted immediately if any of the above occurs to prevent your being charged freight on both ways. We are not responsible for missing, damaged, or incorrect parts after 30 business days, regardless of the party at fault. We are also not responsible for lost or stolen packages and all claims for such must be processed through the shipping company.

Lost Products: If products get lost in delivery, or you still do not get your item for a long time, please contact our customer service timely. We will deal with this ASAP. Please do not deal with it all by yourself, we want you communicate with us.



HOW ABOUT CHANGING YOUR SHIPPING METHOD AND SHIPPING ADDRESS ?
If you want change shipping methods and our customer service is online, please directly contact our online service to chat in detail. If our customer service is not online after you place an order, please leave an order comment to us telling us what shipping option you need and how much you want to write on the invoice. Once our customer service get your message, we will check with you and if needed you may add shipping cost for express, but we will let you know.

A gentle reminder: you have the time to change the shipping option before we send out your package, usually the item will be send within 2 days after receiving your payment.


HOW CAN I TRACK MY ORDER?
Once your order has been placed, you'll receive a confirmation email with the tracking information. Should you come across any issues with tracking your package, please feel free to reach out to us at service@lefeet.com, and we'll work to resolve the issue as soon as possible.

For any issues pertaining to your order, please reach out to us at service@lefeet.com, and we'll work with the mail courier to investigate further into the status of your order.

We stand by our products with a satisfaction guarantee - if you are not satisfied with any LEFEET product, simply reach out to us at service@lefeet.com.
SHIPPING AREA
We transport to most countries in the world, and the following countries do not include all countries; You can check whether your country supports transportation on the checkout page.
S1 PRO & Accessories Free shipping in US/EU; Direct delivery from the United States, delivered within 48 hours of working days.
Area

Country

Freight calculation rules

Weight

USA

USA

S1 PRO & Accessories Free shipping

Other Spareparts:

the first weight is 10 USD 0.50kg

Continued weight 10.00 USD per 0.50 kg

0.00 - 30.00kg

South American countries

Martinique

the first weight is 21.00 USD 0.50kg

Continued weight 4.75 USD per 0.50 kg

0.00 - 30.00kg

Barbados

Peru

Cayman Islands

Guyana

Bolivia

Other countries

African countries 1

Niger

the first weight is 30.50 USD 0.50kg

Continued weight 7.25 USD per 0.50 kg

0.00 - 30.00kg

Mali

Guinea

Sierra Leone

Liberia

Burkina Faso

African countries 2

Congo(DRC)

the first weight is 31.00 USD 0.50kg

Continued weight 8.25 USD per 0.50 kg

0.00 - 30.00kg

Cote d'Ivoire

Angola

African countries 3

Mauritius

the first weight is 20.60 USD 0.50kg.

Continued weight 7.10 USD per 0.50 kg

0.00 - 30.00kg

Seychelles

Guinea-Bissau

Tanzania

Uganda

Egypt

Egypt

the first weight is 20.60 USD 0.50kg

Continued weight 7.10 USD per 0.50 kg

0.00 - 30.00kg

Middle East

Israel




The first weight is 19.75 USD 0.50kg

Continued weight 3.60 USD per 0.50 kg

0.00 - 30.00kg

Yemen

Oman

Lebanon

Other countries

European countries 1

Albania




The first weight is 22.10 USD 0.50kg

Continued weight 5.25 USD per 0.50 kg

0.00 - 30.00kg

Montenegro

Kyrgyzstan

Serbia

Other countries

Near the Norwegian Strait

Grenada




The first weight is 19.55 USD 0.50g

Continued weight 4.90 USD per 0.50 kg

0.00 - 30.00kg

Iceland

Faroe Islands

Andorra

Gibraltar

Mexico

Mexico

the first weight is 17.25 USD 0.50kg

Continued weight 4.15 USD per 0.50 kg

0.00 - 30.00kg

Canada

Canada

the first weight is 18.50 USD 0.50kg

Continued weight 4.15 USD per 0.50 kg

0.00 - 30.00kg

Pakistan

Pakistan

the first weight is 18.50 USD 0.50kg

Continued weight 3.60 USD per 0.50 kg

0.00 - 30.00kg

India and Sri Lanka

Sri Lanka

the first weight is 23.25 USD 0.50kg

Continued weight 5.25 USD per 0.50 kg

0.00 - 30.00kg

India

Near the Cook Islands

Cook Islands

the first weight is 23.05 USD 0.50kg

Continued weight 4.85 USD per 0.50 kg

0.00 - 30.00kg

Niue

Samoa

Guam

Tuvalu

Other countries

Southeast Asia

Cambodia

the first weight is 14.30 USD0.50kg.

Continued weight 3.80 USD per 0.50 kg

0.00 - 30.00kg

Indonesia

Vietnam

Laos

Australia and New Zealand

Australia

the first weight is 18.50USD 0.50kg

Continued weight 3.95 USD per 0.50 kg

0.00 - 30.00kg

New Zealand

Japan

Japan

the first weight is 46.00 USD 0.50kg

Continued weight 3.00 USD per 0.50 kg

0.00 - 30.00kg

East Asia region

Philippines

the first weight is 10.50 USD 0.50kg

Continued weight 2.50 USD per 0.50 kg

0.00 - 30.00kg

Malaysia

Brunei

Korea

TaiWan

Macao

Macao

the first weight is 12.50 USD 0.50kg

Continued weight 3.50 USD per 0.50 kg

0.00 - 30.00kg